Wildfire
&

Hurricane Rescues

---
CHP Officer Rescues Dog
---
Camp Fire, California
A California Highway Patrol officer found this dog that survived the recent Camp Fire which has already destroyed more than 10,000 homes in Northern California. Thanks to these fast acting CHP officers, he was taken to a veterinary clinic in Chico, California for emergency treatment.
Rescue Me made a grant to the clinic where this dog was taken, and is providing thousands of dollars in funding for emergency veterinary care and other assistance for other animals affected by the Camp Fire and other wildfires in California.
Rescue Me is also shipping thousands of pounds of pet food and supplies to those in need in areas of California affected by wildfires.
---
Truckloads of Pet Food Distributed
---
Hurricane Michael, Florida
Watch this video to learn more about the 20,000 lbs. of food and supplies Rescue Me has arranged to help pets in need in areas affected by Hurricane Michael. This is an ongoing recovery effort that will take many months, for some years, before things get back to normal.
Rescue Me has arranged for truckload after truckload to be sent to Florida to help those in greatest need care for their pets.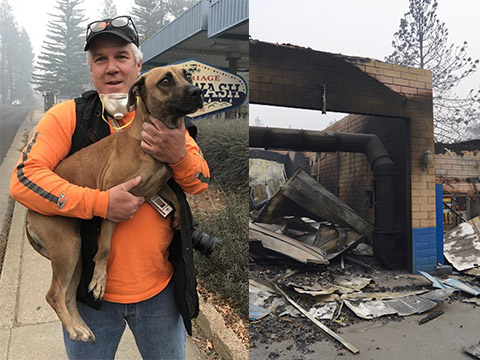 ---
Scared Dog in Burned Car Wash
---
Camp Fire, California
Robert Peterson, a local photographer, found this dog in the remnants of the Carriage Car Wash in Paradise, California.
In addition to our own work providing veterinary care and assistance finding homes for pets in need from the fires, Rescue Me is providing thousands of dollars in grants to local rescues like Wags & Whiskers, and North Valley Animal Disaster Group.
Rescue Me is networking with many rescuers in California, both to fund the care of stray pets found in fire areas, as well as to help those needing new homes find them quickly through our network.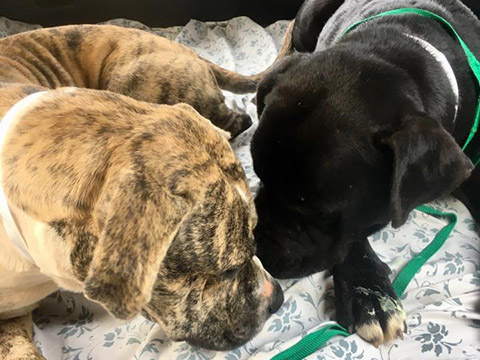 ---
Stray Puppies After Hurricane
---
Hurricane Michael, Georgia
Debbie McDonald met Tiger and Biggie when she was going door to door delivering meals and pet food on a dirt road in Early County, Georgia in the days following Hurricane Michael. The owner recently lost his wife who had taken these puppies in, which were turned over to rescue. These two handsome fellows were vetted this past Monday.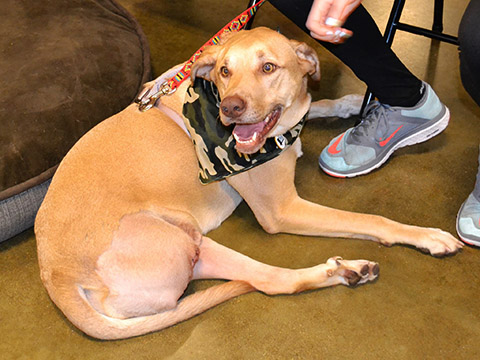 ---
Dog Injured in Hurricane
---
Hurricane Harvey, Texas
A light pole fell on this dog, Sarge during Hurricane Harvey. He had to have his leg amputated, which saved his life. He was flown to Foster 2 Home Rescue in Chicago via Pilots and Paws.