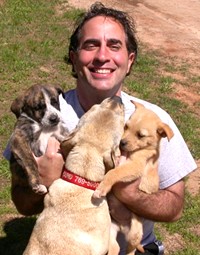 Jeff Gold, Founder, Rescue Me! Animal Rescue Network


    Jeff Gold lives in Watkinsville, Georgia on the same property as Rescue Me's Animal Rehabilitation Center, with 18 rescue animals. Shown with him in the photo to the left are Maggie, Izzie and Cortez. In 2003, after learning there was nobody doing boxer rescue work in Georgia, Gold founded Boxertown, an organization which helped find homes for over 500 boxers during its first two years. Based upon this success, Gold came up with the vision for Rescue Me! ― a network which helps all breeds of dogs, cats and other animals find good homes, anywhere in the world. RescueShelter.com is also a free service of Rescue Me! and provides the world's largest and most up-to-date directory of animal rescue organizations for all breeds of dogs, cats and other animals, including a comprehensive directory of wildlife rehabilitators in over 150 countries.

    Gold has extensive experience running large online networks, having been the original founder of Go.com, an entertainment portal he started in 1995 and later sold to the Walt Disney Company. When Gold ran it during the mid-1990's, Go.com featured one of the largest web chat networks with over 1 million registered users, and over 3,000 affiliated radio station websites. After being acquired by Disney, it became and still is the central hub for all of their web properties including ABC News and ESPN.

    In addition to running Rescue Me!, Gold is the president of the nonprofit World Environmental Organization, and director of Georgia Nature Center, an environmental center giving tours to thousands of school children every month. Gold lives in the Next Generation Home, a 100% solar-powered home located on the Indigo Nature Preserve, adjacent to Rescue Me's Animal Rehabilitation Center.